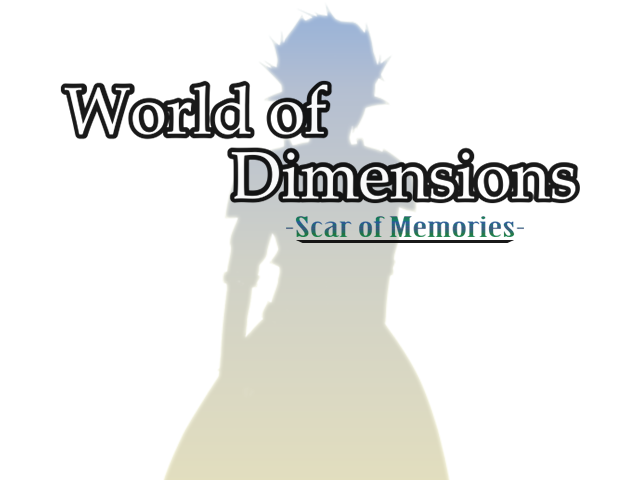 Hallo teman-teman STAILgames.
Setelah berjuang cukup lama dalam mendevelop game WoD-Scar of Memories.
Akhirnya kami mempersembahkan kepada kalian versi DEMO V1.1 ini

Judul Game  : 
World of Dimensions - Scar of Memories
Kode Name  : 
Lucius Arc
Latar Waktu : 
Tahun Dinan 799
Sinopsis     : 
Cerita bermula dari seorang Putra Mahkota bernama Lucius yang merupakan anak dari Harlord yang adalah Raja Bangsa Vampire dengan Lucia yang merupakan selir raja. Lucius diperintahkan untuk menjadi Pemimpin pasukan vampire bernama BLASARM. Namun, Lucius menolak perintah itu dengan alasan karena merepotkan baginya untuk menjadi pemimpin kelompok itu, dan juga Lucius tidak tertarik mengikuti ambisi sang ayahnya yang ingin menguasai seluruh wilayah Prairia. Reina yang merupakan istri utama Harlord sekaligus Ratu Bangsa Vampire sebenarnya tidak suka dengan Putra Mahkota. Reina hanya mempunyai satu anak perempuan saja, ia tidak bisa menghasilkan putra laki-laki sehingga Harlord menjadikan Lucia sebagai selir dan akhirnya Lucius pun terlahir dan menjadi Putra Mahkota. Reina pun akhirnya berencana untuk menjatuhkan hak politik Lucius, dia bersama Cassio (Penasihat Raja) bersekongkol untuk menjebak Lucia yang merupakan Ibu Lucius.
Apa yang sebenarnya Reina dan Cassio rencanakan untuk menjebak Lucia? Apakah Lucia akan terkena jebakan kedua orang itu? Dan apa yang akan Lucius lakukan nanti?Jawaban dari itu semua hanya ada di World of Dimensions - Scar of Memories.
Features
:


Original Character

Potrait Message System

TSBS + Grid System + Timed Hit 

Dual Language [Bahasa + English] 

Original HUD 

NB: Timed Hit dan Dual Language belum tersedia untuk saat ini.
Screenshot
:
Spoiler:
Spoiler:
Spoiler:
Spoiler:
Spoiler:
Credit 
:
Scripts:
Enterbrain
Mithran
Theo Allen
Neon Black
Yanfly
Vlue
MOG
Racheal
Modern Algebra
Tsukihime
Sound:
Enterbrain
soleil-musique
hannya
Sprites Characters:
-Template set Katsuki (Kaduki)
Tilesets:
- Mack tilesets
- Light of the dim
- Evil castle tilesets Evil Castle Tiles Resource Pack [Copyright (C) 2014 ENTERBRAIN, INC; creator: Sherman3D]
- Jacker Leonidas (untuk Bloody stairs yang asli)
Battlers:
Millano cat
Title Screen:
Mr. Big Bone
Artist
Si Kucing
Yakasetavira
Okawa Eruu
Rikudo Akira
Link Download
https://www.dropbox.com/s/4hwe80xq5e1nmhz/WoD-Scar%20of%20Memories_DEMO%20V1.1.exe?dl=0
My Project :


World of Dimensions [On-Going]

[SMC14][BUKAN]World Of Dimensions - Race For Love [Complete]

Hearts Resonance [Completed]

Tutorial :


Mengload project dengan mudah